CLIENT: First National Bank
GENERAL CONTRACTOR: Kiewit Building Group
ARCHITECT: Leo A. Daly
PROJECT VALUE: $4,000,000
PROJECT DURATION: 18 Months
PROJECT DELIVERY METHOD: Design / Assist
SCOPE OF WORK: Plumbing
The Solution
The First National Bank Tower is a 46-story, outstanding facility that serves as a pinnacle in the redevelopment of downtown Omaha.  The City of Omaha and First National Bank teamed together to put together a high-class facility and required engineers and contractors who were capable of carrying out such a task.  Ray Martin was vital in making this facility a success by constructing the plumbing systems for the facility.
Days Finished Before Deadline
---
Tall Tasks Require – Ray Martin
Planning
With the largest concrete pour in Omaha history, scoping out plumbing piping with the concrete foundation/system requires the absolute best planning and coordination.  Ray Martin made coordination with all parties involved to ensure that the plumbing system was installed correctly, in a timely matter.
Reaching Higher
With the building stretching 633-feet into the sky, the plumbing system required 90 miles of plumbing.  This required expert-level monitoring of installation, maintenance, and building for proper performance.  Ray Martin coordinated with the engineers and other contractors to not only provide the proper plumbing drainage and distribution, but to accommodate for the other systems in the building.
Coming Out on Top
Through high-class coordination, planning, and project management by Ray Martin, the plumbing system was installed with optimal performance and functionality as required for this high-level facility in a timely and safely matter.  Ray Martin was vital in helping the job be completed 60 days ahead of schedule.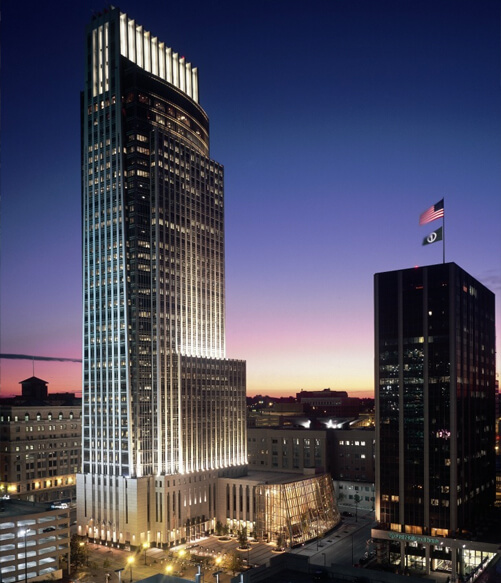 Mobile Sales

80%

Website Traffic

50%

Conversion Rate

75%

Email Subscribers

60%
A Landmark For Omaha
The First National Bank building is a noticible piece of the Omaha skyline. This building was the first building over 30 stories in Omaha. Ray Martin Company was proud to work on this project and we enjoy seeing it every day on our way to work all over town. It lets us know no project is to big for our amazing team.
Live Project